With prom, graduations and other formal gatherings, many young men and women are turning to formal wear stores to find an outfit that compliments their style. Many tuxedo stores are seeing an influx of customers looking to either buy or rent a tuxedo for their special occasion. Renting can save you money, but buying can be a smart investment. Renting and buying a tuxedo or suit both have their benefits. Here Little River Clothing talks about the pros and cons of renting or buying a tuxedo this year.
Renting
Tuxedo rentals make sense for those individuals that don't wear a tuxedo multiple times a year. When renting a tux, you may realize that all of the accessories are included or less expensive to rent than when buying. These accessories may include your shirt, tie, shoes, cufflinks, studs, cummerbund, etc. Financially for the short term, renting make sense. With that being said, you may have other reasons to rent. If you don't want to be committed to one tuxedo and would rather wear something trendy, renting is the way to go. You can choose a different look for every event that is tailored to the time and occasion.
Tailoring is also something to consider when it comes to tuxedo rentals. While you may not get the perfect custom fit you would if you buy, renting gives you room to grow. If you are young and still growing in size, then renting is a good choice for you. Every time you need a tux, you can get one in your size. If you own the tuxedo, you'll be getting expensive alterations every time you need to wear it. Also if you need to match a bride, groom or date, or you just want to dress differently at each formal event that you attend, buying every time is going to get expensive very quickly.
The cost to rent a tuxedo package from Little River Clothing is $230. This includes all accessories, including shoes. If you're only going to wear the suit once then it doesn't make sense to spend more or have it taking up space in your wardrobe. Little River Clothing has a wide variety of suits to fit your style. Come by today!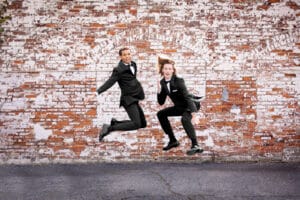 Buying A Tuxedo
Just like renting a tux, there are also pros and cons to buying. If you'll wear the tuxedo more than a handful of times in the next few years, then it makes sense to buy. Even though the price of buying a tux may be high, renting multiple times can start to add up financially over time. On a cost-per-wear basis, buying can pay for itself by the second or third formal event you attend. And that's before you factor in hidden rental charges like late fees or stain removal.
You're never going to be able to rent a suit that looks as good as a custom bought one. Buying a suit or tux opens the door to even more customization and tailoring. When you purchase, you'll be able to have the tuxedo tailored to your style. This will result in a nicer custom fit than you'll get out of a rental. If you do decide to buy a tuxedo, choose a classic design. You want this to last you for years, so it's best not to choose something particularly trendy and flashy. If money is an issue, you're probably better off buying a relatively inexpensive off-the-rack tux and having it substantially altered. There are more and more places to buy tuxedos popping up over time. You don't have to drop a ton of cash to own a great tux. Our intro custom suits begin at $595 and go up from there. Give us a call today and we can help you dress for success.

Conclusion
Overall, renting or buying a tuxedo comes down to the end-user. If you're going to prom, rent a tuxedo. You're still growing and you'll probably want to match your date in something you won't necessarily wear again. If you're in a coordinated wedding party, rent a tuxedo. You'll need to match the other groomsmen and possibly the bridesmaid's colors. The rental process is fairly quick and painless and the helpful folks at Little River Clothing can make it simple and quick.
If you're a guy that has quit growing and attends a fair amount of black-tie formal functions, investing in a new tuxedo made for you may set you back a pretty penny at first, but should pay off over time. So the answer to the question is simply this…How often do you wear a tux? Once you figure that out you can make the financial and educated decision whether to rent or buy. No matter what you choose be sure to come see us at Little River Clothing for all your tuxedo needs. We will make it our priority to dress you for less and have you looking your best. Give us a call today!
(770) 670-4727